Warning
: count(): Parameter must be an array or an object that implements Countable in
/nfs/c06/h07/mnt/183742/domains/gamerreaction.com/html/site/wp-content/plugins/profile-pic/profile-pic.php
on line
489
Posts by Dianna:
December 12th, 2011

Darksiders II follows the exploits of DEATH, one of the four horsemen of the Apocalypse, in a weaving tale that runs parallel to the events in the original Darksiders game. This epic journey propels DEATH through various light and dark realms as he tries to redeem his brother WAR, the horseman who was blamed for prematurely starting the Apocalypse in Darksiders.

Comments Off on Darksiders II VGA Trailer

December 11th, 2011

He's back and kicking some butt! How does he do it??

Comments Off on Mass Effect 3 Gameplay Trailer | VGAs

December 10th, 2011

Have we mentioned how much we love Bioshock? This trailer solidifies that love.

Comments Off on Bioshock Infinite | VGAs Trailer

December 10th, 2011

Blizzard really makes the best CGI videos. I mean.. wow.

Here is the opening sequence for Diablo III! yay!!

Comments Off on Diablo III | VGA Trailer

December 10th, 2011

Naughty Dog shocks the World as they announce a brand new title coming exclusively to PlayStation 3!
Ok… we thought it was zombies but the monsters look like some sort of fungus is growing on their heads.

Thoughts?

Comments Off on The Last of Us | VGAs Trailer

December 10th, 2011

So… Anyone else want to explain this trailer to us? Really Kojima? REALLY?

Comments Off on VGA Metal Gear Rising: Revengeance Trailer

December 9th, 2011

Dianna tries her hand at another video! This time she's giving her first impression of the Sony Playstation Vita.
We'll give you a hint: She loves it.


December 8th, 2011

Title: DMC – Devil May Cry
Developed by: Ninja Theory
Genre: Action
RP-M+ for Rating Pending, Targeting a Rating of Mature or Above
Format: PlayStation®3 system, Xbox 360™
Release date: TBA (PS3, Xb360)

Comments Off on Devil May Cry (DMC) | The Escape Gameplay Trailer

December 8th, 2011

Title: DMC – Devil May Cry
Developed by: Ninja Theory
Genre: Action
RP-M+ for Rating Pending, Targeting a Rating of Mature or Above
Format: PlayStation®3 system, Xbox 360™
Release date: TBA (PS3, Xb360)

Comments Off on Devil May Cry (DMC) | The Fight Gameplay Trailer

December 5th, 2011

Here is the trailer for The Last Of Us. The new PS3 exclusive title we've been teased about these past couple of weeks.

Full reveal of the new title Saturday at VGAs. What do you think it's about?

All we know is it's going to be dark.

October 31st, 2011

We hit the pavement to find out what makes a horror game awesome. We also ask which games are the best to scare the crap out of you.

Check it out and  HAPPY HALLOWEEN!

Comments Off on The Horror Genre | Hitting The Bricks

October 25th, 2011

Chris, freaks out when he loses internet while playing Modern Warfare. Will he ever get his sanity back?

Comments Off on 7 Days Without Internet | Sketches

October 11th, 2011

Indigo Prophecy was awesome.

On Under the Radar, we look at a game that kicked a lot of ass, but nobody really saw it do so. If you've never played it, or want to relive how great it was, here is an in depth look at Indigo Prophecy.

October 11th, 2011

I don't know about you guys, but yesterday when I heard that Mass Effect 3 was officially going to have Multiplayer, I wasn't very happy. After much debating with Alex, I made the decision to withhold my opinions until all the information is in.

As of a couple of hours ago, the details surrounding the Multiplayer have been released.  Bioware has officially confirmed that Mass Effect 3 will have an online multi-player component. Here is the posting in all it's "glory".

4 player co-op multiplayer
Join your friends in the all-out galactic war to take Earth back. The universe of Mass Effect expands with the addition of new co-op multiplayer missions, playable over Xbox Live, PSN and PC internet. Players can choose from a variety of classes and races, form an elite Special Forces squad, and combine their weapons, powers and abilities to devastating effect as they fight together to liberate key territories from enemy control. Success in multi-player will have a direct impact on the outcome of the single player campaign, giving players an alternative method of achieving ultimate victory against the greatest threat mankind – and the entire galaxy – has ever faced.

Mass Effect 3: Galaxy at War
As a bonus to the campaign, BioWare is introducing the Mass Effect 3: Galaxy at War system, a new way for players to manage and experience the galactic war from multiple fronts, including a new 4-player co-op mode. The key to saving the galaxy is the "Galactic Readiness" level, measured by Commander Shepard's ability to apply every possible asset – people, weapons, resources, armies, fleets – in the final battle against the Reapers. Players can impact their game's Galactic Readiness level in multiple ways via the Mass Effect 3: Galaxy at War system, including multiplayer. Other platforms and interfaces will be announced in the coming months. It is important to note that the system is entirely optional and just another way players can have control over your game experience – it is still possible to achieve the optimal, complete ending of the game in Mass Effect 3 through single-player alone.

F.A.Q.

Why include 4 player Co-op multiplayer in Mass Effect 3?

Being able to explore and fight alongside your friends in the Mass Effect universe has always been something we thought would be fun and compelling, and many players have asked for it for a long time as well. Mass Effect 3 is the best place for us to introduce multiplayer through co-op because of the premise of the game – all out galactic war.

Why only 4 player co-op? What not a versus mode?

We have always maintained that we would only add multiplayer into the Mass Effect series if it made sense and did not compromise the power of the single player campaign. Fighting together against a common threat was the multiplayer experience that made the most sense for Mass Effect 3. The way we have designed co-op as a wayto take control of key conflict zones in the galaxy is a natural extension of the premise of Mass Effect 3.

Why did you decide not to include it as a part of the main campaign?

Our priority and focus with Mass Effect 3 has and always will be to deliver a complete and satisfying single player experience.

Does the addition of co-op multiplayer missions impact the scope or quality of the single-player experience?

No. A dedicated team from our recently formed BioWare Montreal studio has been focused on creating the multiplayer game features while the main game continued to be developed by the team in BioWare Edmonton. Both teams are integrated under the same leadership group that produced Mass Effect 1 and 2, led by Casey Hudson. BioWare remains dedicated to delivering one of the most amazing single-player campaigns gamers have ever experienced.

How did developing multiplayer impact the single player game?

BioWare is dedicated and focused on delivering an engaging, fun, and action-packed experience for Mass Effect 3, one that lives up the BioWare standard. To reach that level of quality, last year BioWare opened a studio in Montreal that is home to designers, programmers, engineers, and other developers. Both studios work together as partners, lead by the core Mass Effect team, unified in a single vision. Under the direction of Casey Hudson and other team veterans, both studios make contributions to both the single player and multiplayer modes in Mass Effect 3. Rest assured that no compromises were made to either of these modes in the development of Mass Effect 3.

Which characters can I play in co-op multiplayer? Can I play as Commander Shepard?

Commander Shepard's part in the war will take place in the single-player campaign, as will that of other beloved characters in the franchise such as Garrus, Ashley, and Liara…these characters do not appear in the multiplayer missions. In multiplayer, players will create custom characters to fight on different and unique fronts in the war. This will include the ability to play as favorites like Turians, Krogans, Asari and more… each with their own unique set of abilities.

What if I don't like multiplayer – will my experience be negatively impacted?

Mass Effect 3 is a complete, standalone game that will deliver a satisfying story experience, even if you choose not to try multiplayer. The Mass Effect 3: Galaxy at War system and all of the individual components are meant to complement that amazing game and can be enjoyed on their own or as part of the Galaxy at War experience.

What if I am not good at / do not like multiplayer? Will my readiness rating go down?

ME3 is a story about a war against overwhelming force where the most you can hope for us survival. The more you do to fight that war, the more you can change that story into a more optimistic one. You can reach the highest levels of success in the single player experience alone, but Galaxy at War gives you alternative ways to get there. It's about choice, and allowing players to find their own ways to stay immersed in the Mass Effect universe.

Will you be adding any additional maps or modes through DLC?

We can't comment on specifics right now, but can confirm that we are planning on having DLC for Mass Effect 3.

Do save games from ME1 or ME2 impact the co-op multiplayer missions?

Do characters level up in co-op multiplayer? What is the progression system?

Character progression, weapon upgrading and leveling up is present in co-op. We'll release more information on this topic in the months leading up to launch.

Is there more info about the other platforms of Mass Effect 3: Galaxy at War?

We are not going into details about the other components of the Galaxy at War at this time except to say we are designing each to make sense for that platform. Each component will be able to affect a player's "Galactic Readiness" level in a different way. Again, participation in any or all ME3:GaW elements is entirely optional.

So yeah,  there it is in all its glory. What do you think of the addition of multiplayer? Have your fears (if any), been eased? Let us know!

SOURCE: Bioware Community Forums

October 4th, 2011

The newest trailer dives into the world of Ezio Auditore and his life as a master assassin in the war against the Templars.

In Assassin's Creed Revelations, master assassin Ezio walks in the footsteps of the legendary Altaïr on a journey of discovery and revelation. It is a perilous path – one that will take Ezio to Constantinople, the heart of the Ottoman Empire, where a growing army of Templars threatens to destabilize the region.

Comments Off on Assassin's Creed Revelations | The Life of Ezio Auditore

October 4th, 2011

Hard to believe it's been 15 years since Tomb Raider introduced us to the ass kicking female heroine Lara Croft. Today, Square Enix and Crystal Dynamics announced that they are celebrating 15 years of Tomb Raider during the month of October. During the month, a series of events will be held to mark the celebration. The events start with a digital art exhibition, a signing by artists at New York Comic Con on October 14, and finishing with an opportunity to own some limited edition goodies.

Throughout Tomb Raiders 15 years, the franchise has sold over 35 million copies of the game worldwide and grossing over $300 million at the box office worldwide for the films.

Kicking off the month long celebration is the digital arts exhibition. According to Square Enix:

Crystal Dynamics will be playing curator to a unique digital art exhibition, commissioning eight original pieces of art to be created by a selection of esteemed artists and released during the month of October. The pieces will be created to showcase the new vision for Lara Croft in the eagerly anticipated new TOMB RAIDER game, whilst embracing the individual style of each of the selected artists.

The exhibition began today with a piece created by Andy Park, artist on the original Tomb Raider comic book series. (I still have my Tomb Raider #1 on my shelf. What an awesome series!) The month ends with a featured piece by Toby Gard, creator of the Tomb Raider series.

All art can be viewed over the course of the month at www.tombraider.com/15 in collaboration with Hiptic.com.

As a finale to the event, a limited selection of T-shirts and posters will be available for purchase from The Nerd Machine's website www.thenerdmachine.com with a portion of the proceeds to benefit Child's Play charity http://www.childsplaycharity.org/

For announcements of each artist over the course of the month visit www.tombraider.com, Facebook.com/Tombraider or follow on Twitter @tombraider.

September 14th, 2011

Is it possible to get as excited about a game as I am? Ever since I had the chance to check out Rocksmith at the Ubisoft event a couple a months ago, I've been frothing at the mouth. The anticipation is killing me!  Especially since it's been my dream to learn how to play the guitar but I'm too poor to take lessons

According to the newest trailer:

PAX attendees had the opportunity to rock out to Rocksmith, the first and only video game that allows players to plug in any real guitar into an Xbox 360®, PlayStation®3 or Windows PC to play a sizeable library of songs from the latest hits to classic rock songs. The game features songs from classic rock bands to current artists, including "House of the Rising Sun" by The Animals, "Next Girl" by The Black Keys and "(I Can't Get No) Satisfaction" by The Rolling Stones. Rocksmith adapts to the player's skill level from novices who have never picked up a guitar to the most experienced shredder.

Is it October yet?

Comments Off on Ubisoft's ROCKSMITH At PAX 2011

September 14th, 2011

Still haunted by the memories of his traumatic past, Max begins a new life working private security protecting a wealthy industrialist and his family in São Paulo, Brazil. When gangs target the family under his protection, Max is forced to fight to save his clients and clear his name, in a bid to, once and for all, rid himself of the demons that have tortured him for far too long.

Comments Off on Rockstar Games Presents: Max Payne 3 Trailer

September 11th, 2011

Do you guys remember a couple of years ago when this YouTube clip was going around?

Well, it was done by this woman:Natalya Netselya a a Russian artist specializing in sand "painting". Her work is amazing. When you get a chance, you should totally look up her stuff. It really is breathtaking and some of it will probably bring a tear to your eye.

Anyway, in honor of the upcoming release of Uncharted 3: Drake's Deception, Sony Computer Entertainment Europe commissioned Natalya Netselya, to interpret some iconic images from the series through the medium of sand.

Here they are in all their glory!

Another one!


She even did one for Uncharted 2!


Comments Off on Uncharted Stories in the Sand: Sandart Is Beyond Awesome

September 11th, 2011

So, its official!  Bethesda has finally confirmed that '' will give players the choice to become a vampire, and detailed the new gameplay mechanics that will be introduced.

Director Todd Howard has given the exclusive to G4TV. He goes on to explain how the you'll become a vampire and what new gameplay mechanics and leveling with be introduced to you as a result of you being a glittery vampire.

"We are revealing that you can play a vampire in the game. So there are vampires, and some people have seen them and run into them. But you can contract that disease, and if you wait long enough you'll become a vampire, and that's a whole other mode of playing the game.

"There are various levels of being a vampire, the sun will affect you more the more powerful you get, and you can sort of control your vampirism by feeding on people when they're sleeping. You can sort of, you know, live the life as a vampire in Skyrim, and kill dragons as a vampire."

It's great that Skyrim is expanding on this feature. Being a Vampire in Oblivion seemed cool but it just seemed like it was an add on much like being poisoned. It would be cool if your character's fighting abilities and features change as a result of your vampire infection. It's also good to know that it's a choice and not something they're going to force on the player at some point.

What do you think? Are you stoked for some Vampire action or are you just not interested?

Let us know!

September 9th, 2011

Our boy Nathan Drake is a TV star!  Check out the new Uncharted 3 TV-Spot.

As a girl, all I can say is YUM.

Comments Off on Uncharted 3 TV Spot

September 9th, 2011

The director of the upcoming FINAL FANTASY XIII-2, Motomu Toriyama, recently had a Q&A that revealed some more information on gameplay. The Historia Crux enables the player to travel through time to affect the past, present and future.

Here's the whole Q&A for your reading enjoyment!

Could you give us an overview of what the Historia Crux is and how it works?

The Historia Crux is a new gameplay system that functions like a compass for time travel. As the
portal which allows the player to select areas and time periods to go to, it functions a bit like a home
menu and is at the heart of the story and gameplay progression of FINAL FANTASY XIII-2. The player
can enjoy traveling through time by freely choosing between all the time-space locations where
gates have been opened up. Although these locations proceed onwards into the future, you also
have the option of rewinding time so players are able to experience many different historical
possibilities.

What specific fan feedback are you trying to respond to with the Historia Crux?

The original game, FINAL FANTASY XIII, was primarily story-driven and progressed in a very linear
manner. For the sequel, FINAL FANTASY XIII-2, we are going for a more player-driven concept, so this
time around the gameplay and story itself will alter to fit the player's choices. You will be able to
freely come and go between all the areas; the game will provide not just simple environmental
exploration, but also a multi-layered exploration of history through the Historia Crux.

How does the Historia Crux affect the gameplay in FINAL FANTASY XIII-2?

The Historia Crux branches off into multiple different routes depending on the player's choices. You
will be able to take a detour into areas that have branched off of the route you have taken, perform
side missions and turn back time in each of the areas to experiment with all possibilities. It is of
course also possible to progress simply following the main story, like in the original FINAL FANTASY
XIII. The flow of areas accessible via Historia Crux has been structured so that all of the player's
actions and decisions will influence the gameplay. Casual players will be able to use the Historia Crux
in a similar manner to browsing a favorite website—picking and choosing between all the different
links available. It also contains elements aimed at more dedicated gamers, allowing for more
challenging play by encouraging exploration of all the different times and places, and to find
additional secrets including the multiple endings that are hidden in the different routes.

Many fans have been longing for an explorable World Map for a while. Do you feel that the Historia
Crux is a good alternative?

The Historia Crux divides the world into multiple layers, overlapping with the different time periods
that can be played with the feeling of jumping freely around several world maps. This is a completely
new system and experience, so it cannot be unconditionally compared with other options; however,
when considering the key concept of "player freedom," I believe it to be an optimal system for
combining the best parts of open-world style games with the story-driven aspects of FINAL FANTASY
XIII. Players can adjust their play style to either delve deeply into everything available and be
engrossed, or just make more straightforward choices while going along their adventure.

Is it possible to share more information on how the Historia Crux allows for sidequests and hidden
objects to feature in the game?

In the original game, the sidequests were only unlocked in the second half of the story on Gran Pulse,
but in the sequel we have put in many different sidequests right from the start. Due to the overwhelming demand from players of the original, we have also included many strong and colorful mini-games, a tradition of the FINAL FANTASY series. You will be able to return to any of the times and places whenever you like from the Historia Crux, so it is completely up to the player in what way they choose to play these.

Is it possible to change events that happen in the future depending on your actions in the past?

Depending on the player's actions, new turning points to new futures will be available, and these will
certainly form the basis for the multiple endings.

This is the first time travel has featured so prominently in a FINAL FANTASY game, is this something
you'd like to explore more in future games?

For the FINAL FANTASY series, each game has its own new game system, so it is not as if we are
intending on making time travel key to all future installments. We want fans to look forward to each
FINAL FANTASY having its own unique system. For FINAL FANTASY XIII-2, we are experimenting with
carrying out repeated large-scale user tests to reflect the opinions of users in the game itself. We
really have received a lot of feedback about the game, but among the voices, there are those who
say it reminds them of the classic RPG, CHRONO TRIGGER. For FINAL FANTASY XIII-2, we are aiming
to make time travel a major thematic direction, and be able to express this on high-end game
machines.

Will we be meeting older/younger versions of FINAL FANTASY XIII characters as we travel through
time?

The main characters from the original FINAL FANTASY XIII will show up in this journey through time,
so we will see them in many different situations and guises. I am sure that the fans of the original
will be looking forward to seeing them again and how they have changed over the years!

Is it possible to return to time periods you've already visited and replay them as if it's your first time
you have visited the area?

It will be possible to wind back time in each of the areas you visit and replay them. Character levels
and equipment etc. will be carried over so it will be possible to play the game as if doing a "New
Game+" for each of the areas at different times. It will be possible to play through from the start
using your leveled up characters, once you have completed the game. We have taken care to put a
number of elements into the game system to make replays more exciting and user-friendly.

_________________________________________________________________________________ Read the rest of this entry "

Comments Off on FINAL FANTASY® XIII-2 HISTORIA CRUX Q&A

September 9th, 2011

We just got word that next week, Wednesday September 14th at noon Eastern time, Rockstar will release the official First Trailer for Max Payne 3.

This will be your very first glimpse of the long-awaited return of Max Payne – in action.

Premiering at noon Eastern on Wednesday, look for it in high definition at www.rockstargames.com/maxpayne3 and the videos section of the Rockstar site.

For now, we'll just have to be content with this gorgeous poster that Rockstar just released.

Ninja's?  That's some sh*t…

Comments Off on Max Payne 3: New Poster

September 7th, 2011

There have been a lot of issues with Dead Island and for those of you that are playing it on PC, hope is on the way!

First, for those of you who downloaded the incorrect version of the game, the correct version of the title is now available on Steam and fans are able to download it now.

Second, the day 1 patch notes in their entirety are below.  Please note that the lists circulating around the internet in the past day were not final – so you may want to update your information with what we have here.  Also note that this update may cause incompatibilities between the incorrect version of Dead Island that was released and the fixed version and cause a wipe on saved games. We tried every avenue possible in order to avoid fans having to wipe their saved games and it's important that fans are made aware of this ASAP.  However, we have a solution to help regain some quest progress:  When the game opens, select New Game -> Select the same character as you were using before, and then there will be an  option for "Chapter Select" which will allow the player to jump to the last chapter they were playing in.

Third, Deep Silver plans to announce a "make up" to fans who were affected by the day 1 PC issues, stay tuned in coming days for those details as internal discussions are ongoing on our end.

Fourth, the Bloodbath DLC is still on schedule as planned – fans who preordered the title will still receive the Bloodbath DLC when it launches (date TBA shortly!) as stated previously.

Fifth, The Ripper activation bug which will not load as a result of the version update and this will be fixed in the next game update, coming soon.

Here is the full Dead Island Patch Notes

Multiplayer and Matchmaking improvements

·        Maps are now correctly synchronized when player joins during map loading

·        Games now filter correctly in lobby

·        After joining a coop game enemies now spawn correctly

User guidance improved. (Quest guidance, UI, shop)

Additional Interface polishing

·        Map tracking now works correctly after loading checkpoints

·        Health and stamina bars of enemies now display correctly in coop.

·        Locations of invisible NPCs are no longer shown

·        More than one player can now use the same ladder simultaneously

·        Focus on items in shops is not changing after operation (sell, buy)

·        Additional Interface polishing

·        Fixed displaying gather rings near some door

Player death behavior improved

·        Respawn position now saved when playing in cooperative mode

·        If player dies whilst inside vehicle, menu will now be hidden

Save game mechanics extended

·        Added distinction between quest checkpoints and other saves

Minor animation fixes

·        AI animation now displays correctly after fast travel or travel through portals

AI improvements

·        Improved enemy awareness zombies

·        Enemies reaction to fire adapted

·        Enemies are now able to successfully reach player on some arenas

·        Shooting enemies no longer spawn infinitely

Balancing changes in difficulty

·        Item level will be calculated correctly when playing in second playthrough

·        Kick interrupting reload now adapted; after clip is inserted reload is treated as successful

·        Health regeneration is now disabled during grab.

·        More HP for all escorted NPCs

·        Removed all instances of Butcher during escorts

·        Purna can gain bonus rage from both "Grim Inspiration" and "Inspiring Kick"

·        Only "Walker" type enemies increase the extra XP of the "Combo" skill from Xian's Survival skill tree

Pause Option added

·        Added information about players requesting pause (Co-op)

Looting rules improved

·        Thrown items now cannot be picked up by another player for 5 minutes.

·        Items from just-opened containers cannot be picked up by another player for 5 seconds.

Minor graphical glitches fixed.

·        Rectified occasional graphical glitch with NPC's hands bending awkwardly

·        Animations now display correctly when trading

·        Stomper animation now displays correctly when same target is hit by another player

Sound bugs fixed

·        Volume of pickup's engine has been increased

Quest bugs removed

·        All side quests in Laboratory can now be successfully completed

·        Potential walkthrough blocker removed when quest "Knockin' on Heaven's Door" is completed before talking to Dominik during "On the air" quest

Comments Off on Dead Island PC Patch Notes

August 26th, 2011

There are a lot of good games, there are a lot of bad games, there are a handful of really awesome games. This Game… Is NOT Awesome: JU-ON: THE GRUDGE.

Alex REEEAAAALLLY lays it on THICK!!

Comments Off on JU-ON: THE GRUDGE | This Game Is NOT Awesome

August 16th, 2011

Eager to catch your first glimpse of Borderlands 2, the next evolution of the four-player Role-Playing Shooter? Well wait no more because the world premiere teaser trailer for Borderlands 2 is here! Take at the Gunzerker as he unleashes his special brand of dual-wielding justice on the poor and unsuspecting baddies of Pandora.

Comments Off on Borderlands 2 – Teaser Trailer Kicks Some Major @ss!

August 15th, 2011

Suda 51, the man behind Killer 7, No More Heroes,  and Shadows of the Damned is ready to deliver more 'sex, blood and rock and roll' in his latest title, Lollipop Chainsaw. 

Underscoring the debut trailer of  Lollipop Chainsaw is The Chordettes' classic "Lollipop". Part Shawn of the Dead, Part Buffy The Vampire Slayer, part fever dream, the trailer showcases Juliet Starling, a peppy cheerleader,  slicing and dicing here way through some cell shaded zombie horde with a chainsaw that has the power of rainbows..?

According to James Gunn the writer and part director of the game

Lollipop Chainsaw is the story of young, beautiful zombie-killer Juliet Starling,her sidekick disembodied-head boyfriend, and the entire Starling family of zombie killers as they team up to stop a colossal zombie outbreak. Leading the zombies are a group of zombie rock and roll lords who do battle with Juliet.  The game is complete madness, and I love it.  Lollipop Chainsaw will be here in the U.S. on XBox and PS3 within the next year.

Check out the trailer below!

The game is scheduled to release on Xbox 360 and Playstation 3 in 2012.

Comments Off on Lollipop Chainsaw Gets A Debut Trailer!

August 10th, 2011

Dianna got a chance to check out and iPad case called The Handstand. Check it out!

What's Awesome:  Its a cool design, really sturdy, and your iPad is protected. Would be fantastic for businesses.

What's N'Awesome: Strap is a little tight and the holes for the ports don't fully match up. For personal use it seems a little forced. Could be attributed to the tight strap. May not want to use your iPad as often.

INFO ON THE HANDSTAND
A revolutionary rotational iPad case that maximizes functionality and protection
A rotating disk that allows the user to spin the iPad 360 degrees to effortlessly swivel from landscape to portrait
The perfect ergonomic solution to holding your iPad that prevents accidental application launches and enables the user to scroll with no fumble or fuss
Durable, semi-flexible silicone case that provides reliable protection for you iPad without scuffing
Integrated stand that allows for optimal viewing and comfortable typing for tabletop or desk use
One size fits all hand strap to hold the iPad firmly in place and enables your free hand to easily manipulate the touch screen
Simple, elegant and durable design that comes in black and white
Available at: thehandstand.com
Prices: $49.95
Website: www.thehandstand.com

Comments Off on The HandStand for the iPad | Product Review
August 9th, 2011
Only teamwork can get the four different protagonists of Dead Island through the seemingly insurmountable odds and dangers that await them on the zombie infested tropical island of Banoi.
When playing with friends it's all about fighting together and watching each others' back or…
Comments Off on Dead Island | Part 3 : Co-Op Trailer – Fight Together
August 4th, 2011
We cover the awesome Double Dragon. Describing the awesomeness that is Double Dragon would do it an injustice– check it out and let us know:
Can YOU get 50,000 on Double Dragon??
Comments Off on Double Dragon | Classic Corner
August 1st, 2011
Chris reviews the hilarious Ms. Splosion Man by Twisted Pixel.   Ms.Splosion Man takes the good stuff from the previous Splosion Man and then throws in a crap load of other awesome things. Twisted Pixel has really gone the extra mile to pack the game with content, game modes, and sooo many things to do.
Check out Chris's review below!
BOOOOOM BABY!!
Comments Off on Chris Reviews: Ms. Splosion Man
August 1st, 2011
Seems to be a light week for releases. PC gamers get a chance to finally play LIMBO on their PCs.  My biggest recommendation is the awesome 2D side-scrolling game, Insanely Twisted Shadow Planet. It seems it was only yesterday that Xboxs' Summer of Arcade started. We've already had the awesome action RPG Bastion and the God stratagedy sim game From Dust. Looking at the screenshots, you can't help but see the influences of Limbo, Shadow Complex, Castlevania and Metroid.  You play a tiny spaceship trying to survive a huge army of shadowy monsters and obstacles.
Xbox 360
Saint's Row: Double Pack – August 2, 2011
Insanely Twisted Shadow Planet – August 2, 2011
PS3
Max Payne 3    – August 1, 2011
Saint's Row 2 Platinum Edition – August 2, 2011
Bleach: Soul Resurrection – August 2, 2011
Tom Clancy's Splinter Cell Classic Trilogy HD
Wii
Phineas and Ferb: Across the Second Dimension – – August 2, 2011
DS:
Phineas and Ferb: Across the Second Dimension – – August 2, 2011
PC
Pirates of Black Cove  – August 2, 2011
LIMBO – August 2, 2011
Garshasp: The Monster Slayer – – August 5, 2011
Mac
Fortix 2 – – August 1, 2011
Anomaly: Warzone Earth – August 5, 2011
Comments Off on New Releases: 8/1 – 8/6
August 1st, 2011
You guys know that we're all a eagerly awaiting the release of Diablo III. So we were doubly stoked when we Blizzard announced today that Diablo III will feature an in-game auction house that will allow players to sell their wares and earn some cash in the process.
There are some rules and regulations that come with selling your stuff on Diablo III, the most important being that Blizzard will tax the earnings before it can be deposited into your own bank account.  The move is pretty cool because it opens the possibility of making some real cash while you game and removing the perception that you're wasting your time while you game!  "See mom! I made $1.10 this month on Diablo III!"  whoo hoo!
When the item is sold at the auction house, Blizzard collects amount from the sale, and then it is up to the gamer to decide if they want to transfer those funds into their Battle.net account or have the funds deposited into their bank account. Just know if you deposit it to your bank account, you'll incur more fees.
Blizzard states that they don't expect items sold at the auction houses will sell for more that $10 bucks. Also, don't go expecting to make selling your wares on Diablo III your full time job— it aint gonna happen. Personally I think the service was created as a way to get rid of all the crap that you've accumulated while you played the game.
Just to be clear, if you don't want to use the "real life money" auction house, there will be a gold auction house that will be the in game currency.  I actually appreciate this because I don't think I would use the "real money" AH.
So what do you think?  Think this will ruin the game for players and open up Diablo III to RMTs/Gold sellers? Do you think other companies should incorporate features like this in their games?  Let us know!
July 22nd, 2011
Ohhhh you crazy Rabbids. Always getting into things and causing crazy mayhem! Back in the day they would focus on Rayman and his world. Lately they've shifted their attention to Earth and we're not safe! No one is safe!!
In this trailer to commemorate the release of Captain America: The First Avenger, the Rabbids quickly realize that being Captain America is not as easy as it looks.
Here was their attempt at being wizards to celebrate the release of Harry Potter and the Deathly Hallows 2.
Rabbids: Alive and Kicking looks like it will have all the zaniess of Rayman: Raving Rabbids. According to the website:
The Rabbids have already invaded the past, the world, your TV, and the moon, and now they are set to invade your own home, coming out from the floor and interacting with you through ridiculous and humorous physical challenges. This year with the augmented reality, watch as the Rabbids mess with your life in front of your very eyes!
Um… yes.  I think it's a perfect excuse to get together with a few friends, maybe have a few drinks (ok, a lot), and get to ravin'! Raving Rabbids: Alive & Kicking  attacks your face and Kinect on November 8th!
If you want to PRE-ORDER Raving Rabbids: Alive & Kicking – here is the link!  http://t.co/bNjJZv0
Comments Off on Rabbids LOVE Captain America
July 18th, 2011
This week in game releases we Call of Juarez: The Cartel is released as well as the much anticipated hit of PAX East: Bastion. We had a chance to check out Bastion and we LOVED the games visual and narrative style. Left for Dead 2 folks get another expasion pack with 5 more missions.
PS3 owners will want to pick up LIMBO —  a game that we went gaga for last year at about this time and  Fallout: New Vegas folk get a new expansion.
Here's your list!
Check it out!
Xbox 360
Sony PlayStation 3
Dead Block

7/19

Fallout: New Vegas – Old World Blues

7/19

Fast Draw Showdown

7/19

Limbo

7/19
Nintendo Wii
Just Dance Summer Party

7/19

The Smurfs: Dance Party

7/19
Nintendo DS
PC
Fallout: New Vegas – Old World Blues

7/19

Supreme Ruler: Cold War

7/19

Runespell: Overture

7/20

Left 4 Dead 2: Dead Air

7/22
Comments Off on New Releases: 7/17 – 7/23
July 18th, 2011
This time we go to the man on the street and see if you guys know your classic trivia!!
How well did you do?
Let us know!
Comments Off on Classic Video Game Trivia Round 2 : How Well Do You Do?
July 14th, 2011
Alex had a chance to try out OrigAudio's Doodle: The First Ever Speaker You Can Design.
Here's his review.
INFO ON DOODLE:
Upload and customize your artwork, image, or design in their Doodle editor. It's then printed and shipped to you. Perfect as a gift or to stand out from the crowd!
For more info on Doodle check out: http://www.origaudio.com/
July 11th, 2011
Rocksteady Studios and Warner Bros. Interactive have released a new trailer for the upcoming Batman: Arkham City. This latest trailer shows off the Riddler.
Can you keep up with what the Riddler has in store for you?
Batman: Arkham City is set for release on the Xbox 360, PS3, and PC October 18, 2011, in North America, and October 21, 2011, in Europe.
Comments Off on Batman Arkham City -The Riddler Trailer
July 8th, 2011
We were going through the vaults and found some lost footage from Pax East 2011!  It's Mr. T!  Check it out! Oh and don't Pity Da Fool! …………/sigh
Comments Off on Mr. T's Lost Interview | Pax East 2011
July 3rd, 2011
We've got awesome footage of Batman Arkham City! The video showcases Catwoman, Two Face, and of course, Batman!!    So… Flipping.. AWESOME!!   Enjoy!
Batman Arkham City releases on October 18, 2011.
Comments Off on Batman Arkham City Gameplay Trailer Featuring Catwoman!
June 23rd, 2011
We've got another game that went "Under The Radar". A fantastic game named Oddworld: Stranger's Wrath. You NEED to play this game!!
Stranger's Wrath, tells the tale of a bounty hunter, who while catching criminals for moolah, is attempting to conceal a secret that if revealed, could endanger his life.
The first full-on action title in the series, mixing 3rd and 1st person combat / shooter gameplay, the game was set in the Wild West of Oddworld, far from the industrial lands that housed Abe and Munch's tales.
The game adapted Oddworld's unique Gamespeak feature, using it more as a soft hint system to give the game wide player accessibility without 'dumbing the game down'. The game also debuted a 'live ammo' concept where the ammunition was made of living creatures, and had to be caught for the player to use.
Comments Off on Oddworld: Stranger's Wrath | Under The Radar
June 21st, 2011
Meet the two women with (almost) the same name who are complicating Vincent's life. Who would you choose?
Story synopsis:
Vincent likes his girlfriend. Katherine's pretty, smart, and successful. Trouble is, she's starting to talk about long-term commitment, something Vincent's spent his entire life avoiding. Since romantic complications are the last thing he wants to deal with, Vincent meets his friends for their regular night of drinks. Little does he know that he's about to be blindsided by a beautiful, seductive, irresistible freight train named Catherine. Suddenly, he's hung over in bed next to the most beautiful woman he's ever seen, unsure about the previous night's events. Was it just making out, he wonders, or did something more serious happen between them? Should he tell Katherine? Will he ever see Catherine again? Vincent's about to find that a stumble on the staircase of love can turn into a horrific, fatal plummet…
Available July 26, 2011 for PlayStation 3 and Xbox 360.
Catherine is currently scheduled to release on July 26, 2011 for PlayStation 3 system and Xbox 360 system with an MSRP of $59.99 for the standard edition and $79.99 for the limited-run "Love Is Over" Deluxe Edition (available at participating retailers, while supplies last).
Comments Off on CATHERINE OR KATHERINE — Who Would You Choose? | Catherine Trailer
June 9th, 2011
Alex gives his final thoughts of L.A Noire. You'll laugh, you'll cry…you'll really really want to play this game! Check it out, Right Here, Right NOW!
Comments Off on Alex's Final Thoughts Of L.A Noire
June 9th, 2011
The Reapers are coming!!! EA's just released a live-action trailer for the upcoming Mass Effect 3 and it further convinces us that we so so incredibly screwed.
Can anyone SAVE us???
Comments Off on Mass Effect 3: Live Action Trailer | E3 2011 Trailer
June 6th, 2011
This is Part 2 of the Dead Island trailer released in May, which set the stage for the scenario on the island. In this vid, more details are revealed on exactly what happens at the beginning of Dead Island's twisting, turning storyline and show you glimpses of the first moments of the zombie carnage during one guest's drunken party evening that he probably won't remember the next day because he's either A/dead from a drug overdose or B/dead from zombie eatage or C/in jail or maybe all of the above.
Dead Island will be released September 6th, 2011, for North America and September 9th for the rest of the world.
Comments Off on Dead Island | Part 2: Dead Island Begins | E3 2011 Trailer
June 6th, 2011
The AMAZING return of Master Chief. I mean, you didn't REALLY think he was dead, do you? Microsoft announced a fourth addition to the popular Halo Franchise! A teaser trailer reveals Master Chief waking up to calls of help from Cortona and standing on the edge of a ship as it is being destroyed.
Halo 4 is set to come out over the holiday season in 2012 but no specific release date has yet been posted.
Check out the trailer below!
June 5th, 2011
The battle for Earth begins now!  Check out the E3 Trailer for Mass Effect.
Comments Off on Mass Effect 3: Fall of Earth | E3 2011 Trailer
June 3rd, 2011
CONTEST ENDS – JUNE 11th
Dianna is in a VERY giving mood! So she's going to be giving away a lot of L.A Noire swag.
1. L.A Noire T-shirt
2. Parnell's Leak and Potato Soup w/ Secret compartment.
3. L.A Noire Notebook.
4. L.A Noire WORKING Flashlight with a red and blue filter.
5. L.A Noire Stickers!
6. L.A Noire "Evidence" Lighter/ Paperweight from the "Lipstick Murder"
7: L.A Noire Rockstar Pass (PSN or XBOX) INCLUDES: The Chicago Piano Machine Gun, The Broderick  Detective Suit, The Sharpshooter Detective Suit, The Badge Pursuit Challenge, The Naked City Vice Case, A Slip of the Tongue, Traffic Case, Reefer Madness Vice Case, Nicholson Electroplating Arson Case
Comments Off on Dianna's LA. Noire Contest and Giveaway is LIVE!
June 3rd, 2011
We've just received the E3 debut trailer for the new Tomb Raider reboot.
Armed with only the raw instincts and physical ability to push beyond the limits of human endurance, TOMB RAIDER delivers an intense and gritty story into the origins of Lara Croft and her ascent from a frightened young woman to a hardened survivor.
Holy Cow. Is all I can say. The trailer features a younger and grittier Lara Croft, the trailer shows Lara using her instincts to survive the horrors of what's to come.   I. Can't. Wait!
Honestly, next to BLUR STUDIOS, I really think Square Enix has their trailers down. It looks GORGEOUS!! So REAL!!
Are you as excited about Tomb Raider as I am? Or are you ho-hum about it? Check out the screen shots below and let us know what you think!


Comments Off on Tomb Raider: Turning Point | E3 Debut Trailer
June 2nd, 2011
We just got the first gameplay footage that  re-introduces Jackie Estacado and the Darkness. We get a glimpse of the kick-ass Quad-Wielding™ combat that will, according to 2K Games, "redefine the FPS genre".
2k Games adds:
The Darkness II™ is the sequel to the critically acclaimed 2007 release The Darkness. Inspired by the popular comic book series produced by Top Cow Productions, Inc., The Darkness II is an intense first person shooter that delivers a twisted and gripping narrative of tragedy, modern crime drama, and supernatural horror. The unique graphic noir art style  hearken to The Darkness comics art style using a hand-painted technique for cross hatching and coloring. Players will be taken down the brutal and personal path of Jackie Estacado, head of a New York crime family and wielder of an ancient and ruthless force of chaos and destruction known as the Darkness.
What do you think? Are you getting excited for some The Darkness II action?
Comments Off on The Darkness II – First Gameplay Footage
June 2nd, 2011
Square-Enix has just announced what titles it will be showcasing at E3 this year.  What a list it is!! !!  WHOO HOO! Read below for more info!! Exclamation points!!!!
DEAD ISLAND*
Developer: Techland
Publisher: Deep Silver
Platform: Xbox 360®, PlayStation®3 system, Windows PC
Genre: Zombie Action/RPG
Players: 1-4 online cooperative
ESRB: RP (Rating Pending)
Ship Date: 2011 (NA)
*North America Distribution Only
Story Overview:
The island of Banoi is a lush, tropical paradise in the South Pacific where its flagship Royal Palms Resort serves as the ultimate getaway for vacationers with money to burn. However, all good things must soon come to an end – and the picturesque resort falls into madness and carnage after a mysterious zombie outbreak throws its once-peaceful atmosphere into chaos.
Four individuals who strangely find themselves not affected by zombification must utilize day-to-day items as weapons to fight off zombie hordes in intense, gruesome melee combat in order to survive.
The official website can be found at: http://www.deadisland.com
_________________________________
DEUS EX: HUMAN REVOLUTION
Developer: Eidos-Montréal
Publisher: Square Enix, Inc.
Platforms: Xbox 360®, PlayStation®3 system, Windows PC, OnLive®
Genre: Action RPG
ESRB: M (Mature)
Ship Date: August 23, 2011 (NA)
Story Overview:
DEUS EX: HUMAN REVOLUTION marks the return of the most critically acclaimed video game franchises of all time. The year is 2027 – a time of great innovation in neuroprosthetics, but also a time of chaos, conspiracy and a new social divide. Adam Jensen, a man cybernetically augmented against his will, finds himself in the middle of a mysterious global plot to which he holds the key. By offering players the chance to advance through the game in multiple and different ways, DEUS EX: HUMAN REVOLUTION challenges the foundations of gaming and provides an immersive experience, where every choice has a lasting consequence.
The official website can be found at http://www.deusex3.com
____________________________
DUNGEON SIEGE III
Developer: Obsidian Entertainment, Inc.
Publisher: Square Enix, Inc.
Platforms: Xbox 360®, PlayStation®3 system, Windows PC
Genre: Action RPG
ESRB: T (Teen)
Ship Date: June 21, 2011 (NA)
Story Overview:
As one of the few remaining members of the 10th Legion, disgraced protectors of the land of Ehb, it is up to you to rebuild the once-great Legion and stop the land from falling into darkness. Joined by a group of unique companions, you will travel through a compelling world, defeating all manner of villains and beasts through a combination of heroic abilities, screen-shaking magic and pure cunning.
DUNGEON SIEGE III seamlessly blends intuitive action gameplay, a robust RPG system featuring a large selection of abilities and loot, an extensive multiplayer component, and Obsidian Entertainment's signature storytelling.
The official website can be found at http://www.dungeonsiege.com
_________________________________
HEROES OF RUIN
Developer: n-Space Inc.
Publisher: Square Enix, Inc.
Platforms: Nintendo 3DSTM system
Genre: Action RPG
ESRB: RP (Rating Pending)
Ship Date: Early 2012 (NA)
Story Overview:
Brand-new for Nintendo 3DS, HEROES OF RUIN tasks players with lifting a deadly curse from Ataraxis, ruler of the city of Nexus…
Four mercenaries, each with their own strengths, weaknesses and motivations, answer the call. These unlikely heroes can choose to create a fearsome alliance or venture forth from the city alone. Beyond the safety of the city the land is filled with strange and dangerous creatures, but none as deadly as the evil force behind the curse, which the heroes must eventually confront and destroy.
The official website can be found at www.HeroesofRuin.com
WAKFU®*
Developer: Ankama
Publisher: Square Enix, Inc.
Platforms: Windows PC, Mac and Linux
Genre: Fantasy MMORPG
ESRB Rating: Not Rated by the ESRB
Ship Date: Open Beta Starting Summer 2011 (NA)
*North America Distribution Only
Story Overview:
WAKFU® is a vibrant, immersive world where player choices are paramount. The World of Twelve has fallen into chaos, and is in desperate need of heroes to help rebuild the world.
Players can customize one of 14 distinct character classes and declare allegiance to a nation. From there they can defend their nation against enemy attacks, conquer new territories and even run for governor! WAKFU is a tactical MMO, with a turn-based combat system, so strategy is essential for success in battle. In addition to a satisfying combat system, WAKFU also has a player-driven economy, an ecosystem shaped by player behavior, and a player-driven political system. Participation in all of these has real, in-game consequences. Step into the World of Twelve and forge a path for yourself. In WAKFU, it's all up to you.
The official website can be found at http://www.WAKFU.com
June 2nd, 2011
Comments Off on FEAR 3 Soul Survivor Multiplayer Trailer
June 2nd, 2011
Check out the official Duke Nukem Forever Launch trailer! Duke Nukem Forever is available internationally on June 10th and in North America on June 14th.
Hail to the king, baby!
Comments Off on Duke Nukem Launch Trailer!
June 2nd, 2011
Awesome special that Rockstar is having! Check it out:
The Rockstar Pass is a new way to pre-order DLC, giving players access to all seven paid DLC. The Rockstar Pass is available for a limited-time price of $10.00 (PlayStation Network) / 800 Microsoft Points (Xbox LIVE)—a 50% discount compared to purchasing the DLC content individually. Once purchased, the Rockstar Pass enables gamers to download all the announced DLC for free as it becomes available on the PlayStation Network and Xbox LIVE, which totals four unique cases, two detective suits and a collectible challenge. Xbox 360 Achievements and PlayStation Trophies will be available in each of the four cases.
Comments Off on The L.A Noire Rockstar Pass – Get It Now!
June 2nd, 2011
Check out the new Batman Arkham City trailer that features Catwoman!! Meeee~~ow!!
Comments Off on Batman Arkham City – Catwoman Trailer
May 19th, 2011
Very cool looking profession has just been announced for Guild Wars 2
The Engineer is a master of the mechanical and uses explosives, gadgets, alchemy and a wide range of deployable devices to control the battlefield. Much like the Elementalist, the Engineer uses only a single weapon set at time, but enhances that set by equipping special kits that provide additional weapons and skills for both supportive and offensive skill sets. Whether by firing elixirs to allies with an Elixir Gun, or laying mines and turrets for unsuspecting foes, the Engineer is never without options as long as a tool kit is near.

The Engineer employs a wide range of mechanical know-how:

Backpack and Weapon Kits: When activated, these kits replace the engineer's current weapon skill set with all new offensive tech. Lob smoke, concussion and fire bombs with the bomb backpack, or dish out massive area damage by utilizing the flamethrower skills activated by using the flamethrower kit.

Turrets: By launching and moving around various types of turrets, the engineer controls and defends the battlefield. The engineer can place, pick up and move turrets during battle, and can even use the individual overdrive mode of each turret for extra devastation.

Tool Belt: An engineer would be lost without a Tool Belt, as it increases the effectiveness and functionality of the engineer's skills. Adding an additional set of skills above the weapon bar, the tool adds an extra function to turrets, mines, grenades and more.
Engineers use their tools, mechanical knowledge and a dose of alchemy to provide offensive strength and defensive support to their teammates. With a touch of steampunk flair, the Engineer profession brings the mechanics of battle to Guild Wars 2.
Check out the video below for a demo of the profession!
Comments Off on Engineer Profession Just Announced For Guild Wars 2
May 18th, 2011
Dianna tries her hand at making videos! Watch out world!! In this episode she talks about her first impressions of Rockstar's L.A Noire!
Comments Off on Dianna's First Impressions of L.A Noire | Gamer Reaction
May 18th, 2011
This video will give you the very first look at in-game footage along with some context to set the scenario for what happens when Banoi is turned from a gorgeous island paradise into hell on earth. THIS IS WHAT HAPPENS WHEN YOU DON'T PLAY NICE AND EAT YOUR VEGGIES.
Comments Off on Dead Island Trailer | Part 1: Tragedy Hits Paradise
May 6th, 2011
There are a lot of good games, there are a lot of bad games, there are a handful of really awesome games.
This Game… Is NOT Awesome: THE INCREDIBLE HULK.
Alex really lays it on thick.
Comments Off on This Game is NOT Awesome | The Incredible Hulk
May 4th, 2011
Things haven't been going pretty well for Sony these past couple of weeks to say the least. Gamers are still waiting for the Playstation Network to come back up and even though Sony says it will be up soon, we're not sure when PSN will be up and running.
Today, Kazuo Hirai, Chairman of the Board of Directors of Sony, submitted written answers to questions posed by the Subcommittee on Commerce, Manufacturing and Trade of the U.S. House of Representatives Committee on Energy and Commerce. The House of Representatives held a hearing in Washington, DC on "The Threat of Data Theft to American Consumers."
Sony submitted written answers to questions posed by the subcommittee about the "large-scale, criminal cyber-attack" they have experienced. (Here is the formal letter if you wanted to read it for yourself (click here)
Sony told the subcommittee that they followed four key principles in regards to responding to the attack:
Act with care and caution.
Provide relevant information to the public when it has been verified.
Take responsibility for our obligations to our customers.
Work with law enforcement authorities.
They also informed the subcommittee of the following:
Sony has been the victim of a

very carefully planned

,

very professional

, highly sophisticated criminal cyber attack.
We discovered that the intruders had planted a file on one of our Sony Online Entertainment servers named "

Anonymous

" with the words "

We are Legion

."
By

April 25

, forensic teams were able to confirm the scope of the personal data they believed had been taken, and could not rule out whether credit card information had been accessed. On

April 26

, Sony notified customers of those facts.
As of today, the major credit card companies

have not

reported any

fraudulent transactions

that they believe are the

direct result

of this cyber attack.
Protecting individuals' personal data is the

highest priority

and ensuring that the Internet can be made secure for commerce is also essential. Worldwide, countries and businesses will have to come together to ensure the safety of commerce over the Internet and find ways to combat cybercrime and cyber terrorism.
They are taking a number of steps to prevent future breaches, including enhanced levels of data protection and encryption; enhanced ability to detect software intrusions, unauthorized access and unusual activity patterns; additional

firewalls;

establishment of a new data center in an undisclosed location with increased security; and the naming of a new Chief Information Security Officer.
Sony then went on to tell the subcommittee about their  intent to offer complimentary identity theft protection to U.S. account holders and detailed the "Welcome Back" program that includes free downloads, 30 days of free membership in the PlayStation Plus premium subscription service; 30 days of free service for Music Unlimited subscribers; and extending PlayStation Plus and Music Unlimited subscriptions for the number of days services were unavailable.
What do you guys think of the the Sony attacks?  Does this statement restore a bit a faith in Sony?  Let us know what you think.
Comments Off on Sony's Response to the U.S. House of Representatives
May 4th, 2011
2K Games announced today that The Darkness II, the sequel, The Darkness, now has a release date!
The Darkness II will be available for the Xbox 360, PlayStation 3, and PC on October 4, 2011 in North America and October 7, 2011 internationally.
If you missed it, we covered the preview of The Darkness II at Pax East this year– check it out here!
Inspired by the supernatural horror comic book series created by Top Cow, The Darkness II breaks from the sea of conventional first-person shooters (FPS), and takes players down a brutal and personal path as Jackie Estacado, wielder of Darkness – an ancient and ruthless force of chaos and destruction.
The Darkness II uses  Quad-Wielding gameplay. Empowering players to slash, grab, and throw objects and enemies using Demon Arms, while simultaneously firing two weapons.
According to the press release
[

The Darkness II

is] layered with intricate uses of dark versus light gameplay, the game engulfs players in a whole other level of sophisticated combat. Combined with a complex and twisted storyline, and stylistic violence that is visualized through a hand-painted graphic noir technique, The Darkness II harkens back to its roots of the comic book origins for fans and newcomers alike.

It's been two years since Jackie Estacado, now the Don of the Estacado crime family, used Darkness to kill the men responsible for his girlfriend's murder. Jackie continues to have haunting visions of his beloved Jenny since her death. He's tried to cope by bottling up his supernatural power, and now Darkness wants out. A sudden, unprovoked attack on Jackie's life heralds the start of a full-scale mob war, which has clearly been orchestrated by some outside force. The botched attempt opens the door for Darkness to reemerge, and sets Jackie on a journey to hell and worse, as he unravels the mystery behind the attack and the motivations of Darkness itself.
Here is the new trailer for your enjoyment:

If you haven't checked out The Darkness yet —  Buy it here for US and Here for UK .
PRE-ORDER  The Darkness II —  Here for US and, for some reason we don't have a link for UK folks. We'll update that when it becomes available.
Comments Off on The Darkness II Gets a Release Date
April 26th, 2011
We take a look at an old favorite in another edition of Classic Corner. This time, the 16-bit awesomeness of Earthworm Jim is the focus of our praise. GROOVY!
Comments Off on Earthworm Jim | Classic Corner
April 21st, 2011
We talked to you guys to find out what you thought were the pros and cons of DLC, and whether or not its worth a pricetag.
April 15th, 2011
Last year, a short film/trailer titled "Mortal Kombat: Rebirth" created a huge storm on the internet hinting at a reboot of the Mortal Kombat film Franchise. No one knew if this would be a movie or  if it was fan made, all we knew is that we liked it and that people wanted MORE. The director was Kevin Tancharoen, a fan of the MK series. He made the video in the hope of generating interest in a reboot of the Mortal Kombat film franchise.

What made this video so interesting was that Kevin pitched his film on the internet— this is not very common at all because you normally need a crap load of money to get a project started. What ended up happening was a huge fury of buzz was generated about Rebirth ranging from drooling intense fan worship to deep hatred of the video. Whatever the reaction, the higher ups took notice. And instead of a movie a web series was created.  Personally, I think a web series is called "Mortal Kombat; Legacy" brought to us by Machinima.com.
Personally I think a web series is a better direction. It gives us an opportunity to really get into the nitty gritty of the story and fully develop characters and story lines. A movie would be too brief and would, I feel, force the director to have to appeal to the masses and dumb down / generalize the story– which seems to be what happens with every video game movie.
After watching the video I have to say that I'm totally loving it. I want more. I also love seeing my favorite Battlestar Galactica stars working.
What do you guys think? You digging the new video? Hate it with every fiber or your being?  Let us know!
Comments Off on Mortal Kombat: Legacy – Episode 1! Keep 'em coming!
April 7th, 2011
We cannot wait for May!!
This newly released L.A. Noire sheds more light on Phelps' experiences rising through the ranks of the LAPD. According to the press release:
Upon landing at the more glamorous Vice desk, he discovers illegal gambling, corruption within the force, as well as investigating a shipment of government-issued morphine killing junkies even as it causes problems for the town's most notorious mobsters. [This trailer was] created entirely from in-game footage.
L.A. Noire will release on Playstation 3 and Xbox 360 on May 17 in the US, May 20 in Europe and Australia.
If you haven't reserved this game, what are you waiting for??  Do it now!
Gamer Reaction:  Amazon UK Store
Comments Off on L.A. Noire – Trailer 3
April 1st, 2011
ArenaNet has released their April Fools joke of the day! Why ArenaNet! Why must you play with my heart?
AHH! The trickey!
According to the "press release" here is the breakdown of the Commando and his abilities.
Weapons

A commando can use ten different weapons to bring the pain on the battlefield. The commando weapons are:

Two-Handed: assault rifle, grenade launcher, shotgun, shoulder-fired rocket, flamethrower
Main Hand: sub-machine gun, pistol, scepter
Off Hand: sub-machine gun, pistol, knife, walkie-talkie

A commando can easily switch between his two active weapon sets as needed, but swapping ranged weapons triggers a brief cooldown during which the commando shouts, "I'M OUT!" or "RELOADING!"

The commando has a long reach. Commando weapons don't have set ranges, they just use line of sight. While other professions need to run to different locations on the map, the commando can set up a bunker to snipe at ettins, drakes, and other unsuspecting tangos at map-wide range.

Because of their military training, when they have a knife equipped, commandos gain an automatic bonus to movement speed. They also have the downed state ability to crawl closer to allies who can revive them.

The Commando leaves no man behind, as the APC, tank, jeep and helicopter can also carry allied passengers.  Not only will this increase the team's firepower, but passengers will acquire new skills based on their profession and position in the vehicle.

More so than any profession, the Commando has a mastery of weapons to go along with a wide range of lethal skills.  Whether up close and personal or sniping tangos from afar, the Commando lives by one motto, "If it bleeds, I can kill it."
We're pretty sure it's an April Fools joke, actually we're 99% sure it is. However, because we're such a nice people, we like to give people the benefit of the doubt!  Why AreaNet!!  Why do you do this to us???
🙂
Comments Off on ArenaNet Announces New Guild War 2 Profession: Commando
March 24th, 2011
Alex interviews Joshua Weir the Project Lead for Portal 2. We were so incredibly excited to get the chance to check out the demo at PAX East.
Check out the interview. Are you as stoked as we are?
Comments Off on Portal 2 Owns You | PAX East 2011 Interview
March 23rd, 2011
We, at Gamer Reaction love Beyond Good & Evil. Like, really love this game. So much that we dedicated a segment to it:
But anyway, that's not what we're talking about here. We're talking about the HD remastering of the award-winning action-adventure game from Ubisoft. We already know that Beyond Good & Evil HD will be awesome. We know that already. So the point of this article is simply to try and convert you non-believers that BG&E is awesome and you need to buy it– now. OBEY OR PERISH!
I remembered going to my local Gamestop and trying to find a game that would fill in the dry spell before the big game that I was waiting for. I picked it up, asked the dude at the counter, and he said had no knowlege of the game. I happened to have Alex with me who, at the time, was also loyal employee of Gamestop and he didn't know anything about it either. The cover attracted me and so I purchased it.
I fell in love with it when I heard the music. It's one of the few games that Alex actually sat down and watched me play– and Alex DOES NOT like watching other people play video games. The story and characters were awesome. I loved everything about this game.
So imagine my surprise when I read that the game was getting a touch up in graphics and music AND it was being re-released for X-Box Live. I was so excited because I had lost my copy at some point moving from Manhattan to Queens several years ago. This remastering is a perfect opportunity for me to re-play one of my favorite games.
You play as Jade, she's an investigative reporter whose trying to expose a terrible government conspiracy. Jade is armed with a camera, a dai-jo staff, and unparalleled braver. It's your job to save your planet and its inhabitants. She sneaks and fights and occasionally has a friend help her out.  Jade is joined by Pey'j, her uncle – a giant, talking man-pig with a gruff — but lovable, southern accent.
What makes Beyond Good and Evil a memorable game is how fleshed out the secondary characters are. The world is fully imagined. You really feel like you've been picked up and placed in a world that has a full history with people who have had relationships and have known each other all their lives. Jade is one of the few female video game characters that I can think of who is sexy; not because of her looks but because of her actions. Seriously, this girl kicks butt on so many levels. She's smart, brave, clever, maternal, and she looks like a real person instead of the normal big breasted, skinny, female protagonists that we're used to.
The gameplay is pretty cool. You sneak your way around warehouses and inside caves. You'll shimmy around ledges, jump through lazers, avoid shooting robots, push crates to get to a different parts of the level. The game is not without its flaws, of course: the camera is still a bit of a pain but isn't impossible to get thorough. Un-skippable cut-scenes can be annoying sometimes since all you want to do is go back to fighting the big boss and move on.
One of the coolest parts of the game (much like Bioshock and Dead Rising), is the picture taking ability. The world of Beyond Good & Evil is full of cute critters and scary monsters that you have to take pictures of. Every picture you snap earns you money for upgrades. I personally get a huge rush when a monster appears and I have to find the perfect angle to get a good picture of it before it shoots you with killer radioactive balls.
Long story short (because I feel like I've gushed about this game waaay too much), this is a great game. You should totally get it.  What are you waiting for!  Get it now! If enough people buy this game we may get a sequel.
Beyond Good and Evil HD currently  available on Xbox Live and will be coming to the PSN in May.
March 3rd, 2011
Call of Juarez: The Cartel has a deep and gritty storyline that begins with a fictional drug cartel bombing a U.S. law enforcement agency, devastating the building and killing hundreds of people. The attack is a surprise, leading the U.S. to believe that cartel members had somehow infiltrated federal agencies. In a last-ditch effort, the U.S. puts together a special task force to hunt down and stop the drug cartel. The task force consists of:
– Kim Evans, a gang-affiliated street kid-turned-FBI agent
– Eddie Guerra, a DEA agent with a chronic gambling habit
– Ben McCall, a brutal LAPD detective and descendant of Ray McCall from the original Call of Juarez
As the task force trio searches for the head of the cartel, they're confronted with a variety of challenges that take them on a journey from Los Angeles, California, through Arizona and New Mexico to Juarez, Mexico. To complicate things further, Kim, Eddie and Ben each have their own personal challenges and demons to face, which makes for a complex and high-adrenaline gaming experience driven by a rich storyline evident throughout the Call of Juarez franchise.
Sounds like a a pretty intense game. Especially with all the crazy stuff happening in real like Juarez. It's crazy. Google it.
Think you'll be picking it up?
March 3rd, 2011
This solidifies that we WANT this game. NAO!
If you pre-order L.A. Noire, you get "The Naked City" DLC as a bonus.
"The Naked City"
In the Vice desk case "The Naked City" (available as a pre-order bonus through GameStop in the U.S. and Canada, and through Game in the UK), Cole Phelps investigates the apparent suicide of a stunning fashion model. When the young beauty is tragically found naked in her bathroom amidst a pool of pills, the most likely conclusion is that she's taken her own life. But what about those bruises? And her taste for luxury beyond her means? It soon becomes apparent that this young lady wasn't quite the ingénue some believed her to be.
What do you think? Will you be pre-ordering for Gamestop to get this DLC?
Comments Off on L.A. Noire – "The Naked City"
February 13th, 2011
From the dudes who brought us The Legend of Zelda trailer here is
God of War Indie Movie Trailer:
I would totally watch this movie. Like, seriously.
Change the name to avoid legal issues with Sony and you've got a great movie there!
What do you guys think?
Would you watch this God of War movie or is it not your thing?
Comments Off on God of War Indie Movie Trailer
February 13th, 2011
This is one of the best fan made trailers that I have ever seen. It has awesome 80's movie references, romance, and The Legend of Zelda!
Sit back and enjoy guys.
Oh! and Happy Valentines Day!
The video was done by a guy named Nick Murphy. He's amazing and I already <3 him.
Here's his YouTube page!
Comments Off on The Legend of Zelda (1987) Trailer
February 10th, 2011
We are incredibly excited for L.A. Noire. Yesterday, Rockstar released an official gameplay video showcasing the game's graphics and the amazing, facial MotionScan technology.
According to the press release:
"Orientation" is an overview of the game's core mechanics from searching for clues, to the fundamentals of witness interrogation, and classic action including brawling and shootouts. Using all in-game footage, this first gameplay video in the series explains how your detective skills, intuition and cunning have the power to make or break each case.
Watch the trailer and prepare to be amazed.

How does Rockstar knock it outta the park? Is it wrong that I'm so stoked for this game? I'm scared that I may be hyping this game up too much for myself.
Does this gameplay footage increase your excitement for L.A. Noire?
February 4th, 2011
This is an awesome idea. Like, super awesome. The guys at The Bohemoth are releasing a new Castle Crashers character named: The Pink Knight!

According to Playstation Blog:
Pink Knight is ready to bring the love in. The playable Pink Knight will come packed with the Lollipop and four other brand new additional weapons. Warning: Adorable.
The Pink Knight Pack will be available just in time for Valentine's Day on PSN for just $1.99 and 100% of The Behemoth's revenue from Pink Knight pack sales will be donated to charities devoted to Breast Cancer Research.
Here are some more pics that will make you squeal with glee. I mean, look at him, he's so HAPPY! If this character doesn't make you happy… you have lost your humanity!!!
I don't know about you.. but I bloody LOVE this.  Not just cause I'm a girl and I like rainbows, but because it's for an awesome cause. My money is going to a good place and I would feel like I'm making a difference in the world.  Even if you don't play Castle Crashers, at least buy the addition and throw some good karma your way.
[Source:
Playstation Blog
]
February 3rd, 2011
The guys at Rockstar are really in a festive mood!
In celebration of the Year of the Rabbit, they announced a special price promotion for Grand Theft Auto: Chinatown Wars for iPhone, iPod Touch, and iPad.
Starting today, Thursday, February 3rd until midnight on Sunday, February 6th, one of the highest rated handheld games will be 50% off in the iTunes App Store.
Pick it up!
Comments Off on Happy Chinese New Year From Rockstar!
January 26th, 2011
No, it certainly is not. Warner Bros. has confirmed that it is fake. But wouldn't be great if it was real? Its always kind of fun when mortal enemies form an uneasy truce temporarily. Check out this trailer and love it, even if it will never come to pass.
Check out this trailer and love it, even if it will never come to pass.
Comments Off on Batman and The Joker Together! But Is It Real?
January 4th, 2011
Scouring the internets, I found this pretty little logo for Sonic: The Hedgehog 2 — in HD. I had to blink a couple of times because I thought it was a Sega release.
Nope. Not so much.
S2HD is a fan made endeavor that again proves that Sega can sometimes be a little out of touch with their community. Folks have been clamoring for an updated, totally remade version Sonic 2 on the Genesis and the dudes over at Sonic Retro have got you covered.
The game hasn't been released yet as of now there is a teaser site with a countdown on it. Leading to 11 Days from now so, December 16th.
What can we expect? Who knows, but these guys have been working on the game for like, 3 years now.
You can follow their story right here.  These guys are passionate, you have to respect that. I know I'm looking forward to checking out the game when it's released and Gamer Reaction will be right there to cover it!
Comments Off on zomigosh! Fan-made Sonic 2 HD Logo Looks Sexy
January 4th, 2011
For those of you with an iPad, touch screen playing is pretty cool. You have to admit though, there is a small part of you that misses solid buttons and joysticks. I personally know some folks who say that the only reason they wouldn't buy an iPad for gaming, is the lack of actual buttons and joysticks. Ten One Design is looking to sway those of you who've been on the fence when it comes to iOS gaming.
The "Fling" is essentially a little nub that sticks to the iPad's screen over the directional pad of any applicable game to deliver "ultimate control and superb response for full gaming immersion".
Interesting eh?
Ten One Design promises that the design of the Fling creates resistance and won't easily come off your iPad. They also promise that the Fling won't block your screen due to its transparency.
Check out the video at the bottom and see it in action.
What do you think? The Fling is looking to get more people to play games on the iPad. Would you want to carry the Fling around? Is it totally worth it? Do you think developers will have to start thinking about where they place the controls of their games? Will I ever stop asking so many questions?

The Fling can be pre-ordered now at www.tenonedesign.com for $24.95 and will begin shipping at the end of January.
December 30th, 2010
CTA Digital is a company that we've had our eye on for some time now. They design & manufacture accessories for the Wii, DS, DSi, PS3, Xbox and iPhone. This year they are heading over to the Consumer Electronics Show (CES) in Las Vegas, Nevada and looking to really kick some butt in the Playstation Move peripheral department.
They'll be hanging out all weekend with Robert Paz (aka ProdigyX). He'll be challenging folks to round after round of games while playing this baby that CTA is revealing at CES this year:
An Assault Rifle Controller for PS3 and PS Move – with a unique dual-action trigger it works as a stand alone PS3 controller for games like Call of Duty: Black Ops, as well as with the Move attachment for games like MAG and the upcoming KillZone3. ProdigyX is a multi-platform pro gamer sensation with his own online TV show as well.
Other than the Assault Rifle for PS3 and PS Move, CTA will be showcasing other upcoming products that the audience can try out.  Among these, a few that stand out are:
·    The PlayStation Move 5-in-1 Charging Station. It's a functional  and sexy way of charging two Dual Shock 3 Controllers and two Move Motion Controllers, while stylishly arranging them
around a vertical stand for the PS3 Slim console itself.
·  Something that certainly had us squealing was the Wii Inflatable Racing Kart. C laimed to be the "Ultimate Wii Accessory" by Gizmodo and other top sites, it was also dubbed the "best thing at E3″.
·   I'm terrible at golf. So if you're looking to improve that very important swing, CTA has got you covered. Golf Simulation Set, estimated to be launched later in 2011. This includes a life-size golf club and a golf ball that swings around when hit and returns to position for another go.
· Bowling Ball accessory for PlayStation Move. After the success of the Wii Bowling Ball last year, we CTA didn't want to leave Move fans out in the cold.
·
The PlayStation Racing Wheel — this product works with both the PS3 Move Motion Controller as well as a standard DualShock 3 controller.  It has a stand that allows gamers to setup their own table-mounted racing cockpit.  The YouTube video describing it is here. It made me giggle teehee. http://www.youtube.com/watch?v=7OmXTjQdXSo
Here is a video of the assault rifle in action.   Looks fun eh?
Comments Off on CTA Digital and ProdigyX team up for CES
December 30th, 2010
This could possibly make me want to play WoW.
A group of students in the University of Southern California have created this awesome software that uses the Kinect to… play WoW. So get this, they've HACKED a console peripheral and made it work on the PC.  I mean, how AWESOME is that?
Why is this important you ask?  Well, the software they created maps the skeletal movements of humans and maps them to keyboard functions. The software is still in its test phase, but if they can really make it flawless that means that we may eventually be able to work our computers with gestures!! And, more importantly, this software may be able to help people with limited movement in the future as well.

If you're interested in experimenting with the software or contribute to it, here is a link.
Its hope is to stay an open source platform.
Dianna, I still don't get why this is a big deal? Well, first of all, 2 words: Minority Report.   Second of all, it's the Microsoft Kinect. Microsoft! What do they do? Computers!! I'm sure Microsoft is probably pooping themselves with the possibilities.
Check out the video and let us know what you think!
Comments Off on Kinect + World Of Warcraft = Awesome!
December 14th, 2010
While I think Jimmy Fallon can be funny once in a blue moon, I couldn't help to be extra annoyed with him last night. The folks from Naughty Dog were on the show last night showing ACTUAL gameplay footage of Uncharted 3: Drake's Deception.  I just wanted to keep telling him to SHUT UP and get to the good parts!!
Here it is and try not to kick your monitor out of annoyance. We know he can be a pain sometimes.
Oh, and if you haven't seen the trailer yet.
Check it out!
Comments Off on Uncharted 3 Gameplay and Trailer
December 10th, 2010
The first time I heard about Journey was from it's mention at E3 a couple of months ago. thatgamecompany, best known for flOw and Flower, has rather announced another Playstation Network exclusive named: Journey. Journey follows the concept of thatgamecompany's mantra: simple gameplay and easy controls.
What makes Journey different from flOw and Flower is thatgamecompany is promising an online experience. Players will encounter strangers and experience the vastness of the world. The creators wanted to create a sci-fi/fantasy where the player would feel almost overwhelmed and powerless with enemies and the world around them. Their intention is to create a game that will create memories and discussions among the players.
..what?   I don't think I've ever heard a game described to me like that and I'm so incredibly intrigued.  There is still almost no information about this game. All that we know is the trailer that was released including some screen shots.
What do you think?  Are you as intrigued as I am?
December 6th, 2010
According to Game Informer:
To build an entirely fresh Lara – a culturally relevant hero worth of the attention that once came so effortlessly – they must break her first. In this new adventure – simply titled Tomb Raider – a younger and inexperienced Lara Croft must endure both physical and emotional trauma to survive.
I'll be the first to admit that I inwardly groaned when I heard another Tomb Raider was in the horizon. Now.. I'm pretty stoked.
What do you guys think? If anything, it's a hot picture no?
[UPDATE]

New pic was just released. FULL BODY PICTURE

FTW

!!
December 4th, 2010
When I saw Inception, my mind was sufficiently blown. It was gripping, emotional, terrifying, exhilarating and a crap load of other smart sounding words.
Check out our review of Inception if you haven't already. We loved the movie.. a lot.
I had a blast and I honestly couldn't wait to add that movie to my collection. The movie is released on Blu-Ray and DVD on Tuesday and imagine my surprise when I saw that Amazon and Amazon UK were BOTH having an awesome deal.
On Amazon and Amazon UK you can get all three versions of Inception, DVD, Blu-Ray, AND Digital Copy for $18.00 or £14.99 — that's 50% OFF.
November 22nd, 2010
I don't know about you, but I watch Netflix. A lot. My Netflix Instant Watch on my XBox 360 account is a whore that we, at Gamer Reaction happily ride… all the time.  OOOOHHHH has she been ridden hard.
So imagine my surprise when I saw that Netflix annouced that they were launching a streaming only account. This is awesome and I love this.  Why?  Because this comic (which coincidentally came out today), pretty much sums up my Netflix experience:
I don't even remember what movie I have stored in a plastic bag somewhere. THAT'S how long I haven't looked at the DVDs I took out.
Netflix has officially announced a $7.99 streaming-only plan for the US. If you're like some folks I know who prefer Netflix will be increasing the service by one dollar to all their DVD plans.  Blu-Ray Prices remain the same.
What do you think US folks?  Are you going to keep your DVD subscription or go full streaming?
Does this affirm that DVDs and Blu-Rays are getting left behind for streaming content?
What are your thoughts?
Comments Off on Netflix Launches A New Streaming Plan! US Only (Sorry UK)
November 22nd, 2010
Look at the gorgeous at for the new Dead Space: Salvage graphic novel. According to the Dead Space Facebook page:
Find out what happened to the Ishimura after the catastrophe on Aegis VII in the prequel graphic novel, Dead Space: Salvage written by Antony Johnston and illustrated by Chris Shy!
The story according to the page is
The USG Ishimura, the most famous of the Planetcracker class starships, is flung from orbit around Aegis VII after the disastrous events of Dead Space. It is lost somewhere in deep space, and both the Government and a powerful religious sect called "Unitology" believe it may still hold the Red Marker, an alien artifact that promises great power for either side, and both will stop at nothing to reach it first!
The art is amazing!!!
Do you think you'll pick this up?
Comments Off on Dead Space: Salvage — Exclusive Art
November 15th, 2010
Honestly, I watched this trailer like, 3 times.  The first time was in the dark and I nearly shit myself with fear. The second was with the lights on sort of covering my eyes and the third was that morning with the sun shining in through my window.
EA's Dead Space was the first game that LITERALLY made me scream till I was hoarse. I was so scared and I shaking and I bloody loved it. Now, Dead Space 2 is coming early next year and I am so excited to get the shit scared out of me a second time.
Poor Isaac. In the first game he had the pleasure of seeing enough death and destruction to slowly drive a man insane.
In the second game Isaac wakes up in a hospital to find that he hasn't escaped the horrors of his previous adventure. Uggg….
In the aptly named "Lullaby Trailer" poor Isaac again, fights for his life while scary crap comes at him at all angels. Never sleep again guys
Dead Space 2 is due out on January 25, 2011 for PC, PS3 and Xbox 360.
Comments Off on Dead Space 2 trailer — Never sleep again.
November 15th, 2010
A couple of months ago, I was getting ready for work and I flipped on the old TV.  It just happened to be that the first channel that popped up was "Good Morning, America" and they were doing feature of the new musical that's coming to Broadway Spiderman: Turn off the Dark.  Not gonna lie, I actually dug some of the music.  I mean, it is is being done by the dudes from U2.
Anyway, just recently, some pics were released courtesy of the New York Post and Vogue and I'm little embarrassed.  They look TERRIBLE! I mean, who did the photoshop on these pics? And why am I suddenly embarrassed for saying that I liked the music.    Anywho:
Here they are for your viewing pleasure:

WHAT is going on here? Green Goblin looks sooo bored, and the photoshopping… *shudder*. Why is Spiderman riding on his back? Where are they going?!
Who the hell is this?! I'm gonna assume they created this female character so she can belt the shit outta her songs. Her costume is FIERCE though…
Poor Carnage.. you look like a a bad cosplayer…
November 15th, 2010
This game looks so rad. I mean, COME ON!!!!  I feel like every time I read about this game I get so excited I want to go out and kick someone in the nuts. Seeing trailer is even better!! There is so much testosterone coming off the screen I can feel a beard coming on.  The trailer is set to Filters "Hey Man, Nice Shot" and there are guns and dildos and some dicks.  Yeah. I said it, you know why??   Because I'm  a badass and I can!!!
BWAHHHHH!!!  Watch the trailer and feel as badass as mee! Let's go kick some people in the nuts!!
WHOOO!!!!!!
Comments Off on Bulletstorm Trailer!
November 2nd, 2010
We had such a blast hanging with the Empire State Gamer crew, Major Nelson, Cliffy B, Kudo, Hip Hop Gamer, Sion, and a whole crap load of people we can't remember right now because we're still recovering.
Comments Off on Microsoft Kinect Midnight Launch and After Party — PICS
October 31st, 2010
Alex: Cool Thomas Jefferson
Jeremy: Pirate Jeremy
Chris: Jedi
Dianna: Alice from "Alice in Wonderland"
and booze. Lots of booze.
Comments Off on Gamer Reaction: Halloween 2010 Pics
October 26th, 2010
At this point, if you haven't played Dragon Age: Origins you need to get on it before Dragon Age: 2 is released. If you've been waiting to play Dragon Age, this is the edition you need. I'm totally getting it. Go!
Buy it NAO!
Comments Off on Dragon Age Origins: Ultimate Edition available NOW
September 22nd, 2010
I mean, I don't remember an ad for the XBox 360 Pink Controller(was there?). I just saw it at a Gamestop one day and purchased it as an act of brazen rebellion for Alex's rude "awwwwwww look at the pretty PINK CONTROLLER" remarks.
This ad is wrong. Just wrong. When I got it in my in-box, I stared at it for several minutes and got increasingly uncomfortable as the seconds passed. Why did this make me uncomfortable? Well, I'll tell ye:
The first thing that came to mind when I saw this ad was a tampon commercial. That's gross. That's NOT what I want to be thinking about when I see this ad. That's NOT what I want to be thinking about when I'm playing video games! Much LESS holding a controller.
A question that came to mind: Has handing a pink controller to your little girl become a right of passage? on her 13th Birthday you give your girl a romance novel,  a box of tissues, a PS3 Pink controller, and a slap on the ass and tell her "now, you are a woman".
This perpetuates the stereotype that girls like pink and girls like blue. That's not true. I've seen some men wear pink and they look downright sexy.
I feel dirty and I feel like women have been set back a couple of years.  And what the hell was Sony thinking? "Make it PINK and the girls will go GAGA over it.  HEY! maybe we'll get some more gamers now that the controller is PINK!" .
Am I offended?  Ehhhh..  Am I amused? Yeah,very.    It's 2010 Sony.  I thought we were beyond this.  What do you guys think?  Am I wrong in this? Am I being dramatic?  Let's talk!
August 3rd, 2010
I hope you guys are ready for this jelly, because I'm about to BOMBARD you with awesome little tidbits about SPvsTW.  "Why are you doing this Dianna?" You may ask.  There's a lot of misinformation out there and I felt like it was my duty as resident comic book nerd to set the record STRAIGHT!
*pushes up her glasses*
Are you ready?  Let's GO~~~~!!!!
Here are a couple of fun facts about the new Scott Pilgrim vs. The World: The Video Game coming August 10th for PSN and August 25th for Xbox Live.
Scott Pilgrim vs. The World is based on the

Graphic Novel

of the same name by

Brian Lee O'Mally

.

It's an awesome read for those of you who haven't gotten a chance to check it out.
There is a movie based on the Graphic Novel that is coming out August 14th of the same title (notice a trend here?) starring Michael Cera:
The Art Designer of the game is named Paul Robertson. His art is so… AWESOME.  He's known for a video that he did about 4 years ago named:

Pirate Baby's Cabana Battle Street Fight

.

People were so impressed by the art style they SWORE it looked like a video game. Nope.. he's just that awesome.  Check it out :
and video #2
You can find more cool stuff about him HERE and HERE.
Paul Robertson's also designed the new Anamanaguchi album cover. If you don't know Anamanaguchi, they are a "Chiptune" band that makes music that sounds like it's from an old school NES system.  I urge you to

CLICK HERE

or

HERE

for more info.

Anamanaguchi is ALSO composing the music to the game:  you can listen to some samples

HERE
As you can see, there are a lot of heavy hitters behind this fanchise. I'm happy to see folks getting the credit and the recognition they deserve. Honestly, the game itself may be the best Movie to Game port to come out in a while. Playing it was a blast and I can't wait to get my hands on the full game — and the movie when they come out in a couple of weeks.
Jeeze.. did I miss anything?  Did your head explode from too much awesome?? Let me know! Put you're two cents in!  Are you excited for the movie as am I?

June 21st, 2010
FOR IMMEDIATE RELEASE
Contact: Dianna Lora
www.gamerreaction.tv
Contact@Gamerreaction.tv
GAMER REACTION PARTNERS WITH PIXEL ENEMY.
New York, NY- Gamer Reaction (www.gamerreaction.tv), is proud to announce our YouTube partnership with Pixel Enemy (www.PixelEnemy.com). By partnering with Pixel Enemy, Gamer Reaction expands their presence in the video game community and allows us to foster relationships with extremely talented video game content producers.
Gamer Reaction produces exclusive, high-quality one-on-one interviews with industry insiders, plays home to original shows such as Under the Radar and Gamer Reaction, and offers a sneak peek at some of the most anticipated games of the year.
Pixel Enemy Presents is a video content network where independent producers get paid for what they create, are in control of their work, and benefit from the momentum of their peers. The Foundation Partner program offers a unique opportunity to be part of a growing consortium of video game content creators that all contribute unique, original, and fresh content.
For more information on the Gamer Reaction please contact Dianna Lora at Dianna@Gamerreaction.tv or check out www.Gamerreaction.tv.
About Gamer Reaction: Gamer Reaction wants to make your opinion count by taking it to the streets. Gamer Reaction is a show that reviews games in a way that other shows won't: by giving YOU the power! We have found that very few people want to hear the biased opinions of one or two people who are scripted and being paid to say what they're saying. So now, Gamer Reaction takes the reviews to the people you can trust: YOU.
About Alien Bucket Productions – Alien Bucket Productions (ABP) is an independent video production company based in New York City that specializes in producing quality Internet media entertainment for all facets of the video game community. ABP will market itself to a niche audience: the video game industry and the gamer.
Comments Off on Gamer Reaction Partners With Pixel Enemy!
June 2nd, 2010
We're big fans of point and click adventures and this game looks so cool we definitely want to check out! A rep from Southpeak Games describes the game in awesome fashion:
It's June, 1908. You are a Russian, doing normal Russian things northwest of Lake Baikal, in the middle of Siberia. As you and your comrades are… I don't know, bolshevizing, maybe?… you see a large column of light as bright as the sun appear nearby. Then, a HUEG LIEK EKSBAWKS 'SPLOSION happens and knocks you on your back, where you sustain a massive and highly improbable head injury and die, thus removing you from this narrative. What happened? Well, you'll never know, 'cause you're dead. But other people will research this event for decades. Eventually, some will say that it was an air burst from a comet or meteoroid entering the atmosphere. But others say that it was something else. Something more… sinister.

Flash forward 100 years. Nina Kalenkov is your average woman with your average brilliant scientist father. When he goes missing, Nina finds that her father focused much of his energy on researching the Tunguska Event. What happened to him? What relevance does the Tunguska Event hold? WHAT WILL YOU DO? This is where the REAL story begins…
Squeeee!!!! Doesn't that sound neat??  I sure as hell am intrigued.
Secret Files: Tunguska will be released for the Nintendo DS and Wii at the end of June for the AWESOME price of $19.99!!!
Keep checking in and we'll have more info for the game as the release date gets closer.
Comments Off on Secret Files: Tunguska coming to the Wii and DS
May 26th, 2010
For those of you who don't know, we had a chance to play Mafia II at PAX EAST. From what we played, it looked like it was going to be a fun ride. Well, 2K Games announced today that they were releasing a Collectors Edition for the PS3, Xbox 360 PC.  Sounds like the collectors editions are going to be in limited quantities so if you want one your gonna have to snatch them up as starting TODAY!!!
The Mafia II Collector's Edition will contain the following goodies for those of you who preordered:
Brushed metallic SteelBook hard case with debossed logo containing two pieces of art featuring Vito and Joe, the stars of Mafia II.
Made Man Pack: Free access to in-game downloadable pack that lets players get behind the wheel of two different luxury automobiles modeled after cars from the period. In addition, Vito will look the part with two new "made man" suits, including a vintage tux.
Hardcover Art Book: Get to know the families of Empire Bay with a 100-page photo album-style art book that takes fans through the artistic design process of the game.
Mafia II Orchestral Soundtrack.
Map of Empire Bay: Get familiar with the neighborhoods and own the streets with a high quality, tear-resistant map depicting the 10 square miles of Empire Bay and all the hangout spots.
It seems like 2K Games is also partnering up with GameStop, Amazon, Best Buy and Wal-Mart.com to provide incentives, including free downloadable content or gift cards, to customers who pre-order Mafia II through those retailers. Gamers can now pre-order Mafia II and the Mafia II Collector's Edition at select retailers.
For those ready to get made now, the following pre-order items are being offered in North America by GameStop, Amazon, Best Buy and Wal-Mart. The DLC packs will also be available at select international retailers.
Vegas Pack (GameStop): Get a taste of old school Vegas in this new DLC pack from Mafia II. Bring a taste of Vegas to Empire Bay as you cruise through the town in two new cars with smooth handling and timeless lines. Vito shows his Vegas style in two new suits inspired by movies and music of the time.
War Hero Pack (GameStop): The '40s wouldn't be complete without a war hero. Vito plays the role well in the War Hero DLC pack. Drive two military style vehicles and notice the superior handling in all weather conditions. Vito looks sharp in two new military outfits, including fatigues and a dress uniform.
Renegade Pack (Amazon): Show off your inner renegade in this new DLC pack. Start with two new cars, one with the slick styling and tight handling of a small sports coupe and the other with the revved up engine of a '50s hot rod. Outfit Vito in two new suits, including leather and lettermen's jackets to fit his renegade persona.
Greaser Pack (Best Buy): Free access to the in-game downloadable content pack that is all about speed. These two new hot-rod speedsters will win you pink slips every time. Pair them with two new outfits for Vito — a leather jacket with heavy boots, and a leather racing suit — and get your engines revving.
$10 Gift Card (Wal-Mart.com): Pre-order Mafia II at Wal-Mart.com and receive a $10 Wal-Mart e-gift card.
Mafia II is rated M for Mature by the ESRB and will be available in North America on August 24, 2010 and internationally beginning August 27, 2010.
May 18th, 2010
For those of you who've been following us these past couple of months, we've been super excited for Rockstars Red Dead Redemption. Well, it came in the mail today and holy cow is this a great game. The open world is gorgeous, the fights are stressful, and the story/ quests that you get are engaging and downright fun.  This won't be a full review of the game because we just haven't played enough to justify giving it a proper thought, but honestly, so far so good.  If you haven't gotten this game yet: GO GET IT!!
Some really cool things that you may not have known about: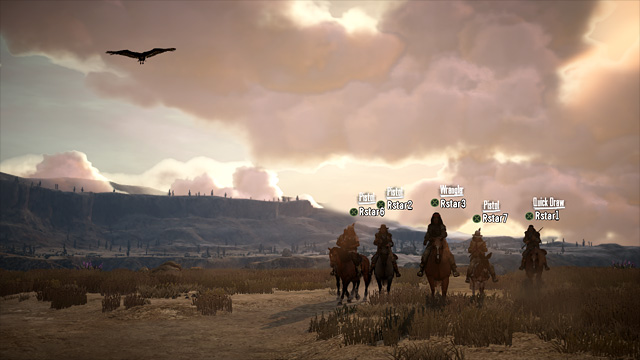 From May 18th to June 1st, earn the Red Dead Rockstar Achievement or Trophy by playing multiplayer and killing a Rockstar – or someone who has already killed a Rockstar.  If you earn this prestigious Achievement or Trophy during that time period and have a membership in the Rockstar Games Social Club, you will automatically be entered for your chance to have a unique Multiplayer character with your likeness appear in upcoming Red Dead Redemption downloadable content.
The only way you'll know exactly when they are getting online for this specific type of session is by following them closely on Twitter and/or Facebook.
Further events and contests include:
Play with Rockstar San Diego – Every week the developers at Rockstar San Diego will be playing online.  See how you fare against some of the folks who built the game itself.
Rockstar Posse Challenge – Every Saturday to and through June 6th at HIGH NOON, take your chances against the Rockstar Posse.  If you draw, better be Picasso…
Rockstar Social Club Multiplayer Event – Live steaming video and chat sessions with Rockstars as part of the Social Club Multiplayer Events Series.
Events for this present week and through Sunday include the following dates and times:
Thursday, May 20 (7-10PM Eastern)
Play with Rockstar San Diego
For PlayStation 3 on PlayStation Network and for Xbox 360 on Xbox LIVE
Friday, May 21 (4-8PM Eastern)
Rockstar Games Social Club Official Multiplayer Event with Live Stream & Chat
For PlayStation 3 on PlayStation Network
Saturday, May 22 (12-2PM Eastern)
Rockstar Posse Challenge
For PlayStation 3 on PlayStation Network and for Xbox 360 on Xbox LIVE
Saturday, May 22 (12-4PM Eastern)
Rockstar Games Social Club Official Multiplayer Event with Live Stream & Chat
For Xbox 360 on Xbox LIVE
Sunday, May 23
Kill A Rockstar
For PlayStation 3 on PlayStation Network and for Xbox 360 on Xbox LIVE
Keep track of when Rockstar is playing by again, following them on Twitter and Facebook.
You'll know you've come upon a Rockstar if you see one of these Gamertags/IDs:
PlayStation Network IDs for 'Kill A Rockstar'
RedDeadDev1, RedDeadDev2

Xbox LIVE Gamertags for 'Kill A Rockstar'

RedDeadDev1, RedDeadDev2

PlayStation Network IDs for 'Play with Rockstar San Diego'
RedDeadDev13, RedDeadDev14, RedDeadDev15, RedDeadDev16, RedDeadDev17, RedDeadDev_18

Xbox LIVE Gamertags for 'Play with Rockstar San Diego'
RedDeadDev13, RedDeadDev14, RedDeadDev15, RedDeadDev16, RedDeadDev17, RedDeadDev18

PlayStation Network IDs for 'Rockstar Posse Challenge'
RedDeadDev19, RedDeadDev20, RedDeadDev21, RedDeadDev22, RedDeadDev23, RedDeadDev24, RedDeadDev25, RedDeadDev26

Xbox LIVE Gamertags for 'Rockstar Posse Challenge'
RedDeadDev19, RedDeadDev20, RedDeadDev21, RedDeadDev22, RedDeadDev23, RedDeadDev24, RedDeadDev25, RedDeadDev26

PlayStation Network IDs for 'Rockstar Social Club Multiplayer Event'
RedDeadDev3, RedDeadDev4, RedDeadDev5, RedDeadDev6, RedDeadDev7, RedDeadDev_8, RedDeadDev9, RedDeadDev10, RedDeadDev11, RedDeadDev12, RedDeadDev13, RedDeadDev14, RedDeadDev15, RedDeadDev16, RedDeadDev17, RedDeadDev_18

Xbox LIVE Gamertags for 'Rockstar Social Club Multiplayer Event'
RedDeadDev3, RedDeadDev4, RedDeadDev5, RedDeadDev6, RedDeadDev7, RedDeadDev8, RedDeadDev9, RedDeadDev10, RedDeadDev11, RedDeadDev12, RedDeadDev13, RedDeadDev14, RedDeadDev15, RedDeadDev16, RedDeadDev17, RedDeadDev18
For more Red Dead Redemption events, click HERE.
Comments Off on Red Dead Redemption: *drool*
April 21st, 2010
In the world of Red Dead Redemption, south of the border across the San Luis River from New Austin, lies the Mexican province of Nuevo Paraiso.
Check out some brand new screens from this area.
An assault on the rebel base at Torquemada.
The bells of Las Hermanas ring out in times of danger..
The stunning, yet deadly gulches of Sidewinder Creek.
Wagons ferry people and supplies from Casa Madruga to nearby towns.
April 16th, 2010
ACT 2 – PART 1

aaaaaannd ACT 2 – Part 2!!
So rad….  I tip my hat to you!
Check out http://www.doctoroctoroc.com/8-bit-dr-horrible/ and check out all the awesome stuff this guy has done!
Comments Off on 8 bit + Dr Horrible PART 2… so rad!!
April 14th, 2010
I was perusing the Facebooks and found some awesome new Multi-Player Screenshots from Red Dead Redemption.
Check out the Multiplayer Video they released:


Whattaya think??  I don't know about you, but I am SO stoked for this game!
Comments Off on Exclusive New Red Dead Redemption Screens: Multiplayer
April 13th, 2010
Hey guys,
A couple of months ago, Empire State Gamers interviewed me for their ESG Community page. Here is how they discribe it:
On ESG (Empirestategamer.com) we have a section that is totally devoted to the NY Gamer. Not just the average NY Gamer but the type of NY Gamer that has personal projects of their own (blog, clothing line, gamer group, etc.). The category "Gamers" is placed under "NY's Finest" which obviously speaks for itself. This is an easy way to get your name out there while connecting with the NY gamer community.
Pretty cool huh?
Anyway, thought I would post this up on the site since this was before we changed to this awesome new site format!
Here it is!       Dianna Clearly Wears The Grlpants
Comments Off on Article – Dianna Clearly Wears The Grlpants
April 6th, 2010
I love me some Joss Whedon of "Buffy The Vampire Slayer, Dr. Horrible, Angel, Firefly" fame. I ESPECIALLY love old school Nintendo games. So when I saw this, I giggled like a school girl.
I certainly enjoyed it. What do you guys think?
Comments Off on Dr. Horrible + 8bit = TEH AWESOMES!!!!!!!!!!!!!
April 6th, 2010
just added a cool toolbar to the site. You can access the Gamer Reaction Fanpage and Twitter page, play some games, check out some pictures, and more! Check it out and let us know what you think of the new bar!
Comments Off on New additions to the site!
April 2nd, 2010
What if the Nazis won WWII? For that matter, what if Denmark took over the world?! You make the calls in this turn-based strategy game. In this video, Alex talks to the guys at Muzzy Lane about their upcoming game "Making History II – The War Of The World".
We had a good time and think it's going to be really fun game. Check it out and let us know what YOU think!
March 27th, 2010
Dead Space 2 producer emphasized that the new Dead Space will be chock full of action. At the Dead Space Pax East panel: Creating a World of Horror, not only was it Live Streamed but they also showed off thirty second of footage that was chock full of action packed-y goodness.
Check it out. It's pretty epic.
Think you'll play it?  Let us know what you think!
Comments Off on Hoooly Moly – Dead Space 2 Footage – PAX East 2010